当地时间2023年3月17日Cage Warriors 150期在伦敦O2球场举办,Cage Warriors的2023年世界巡回赛的欧洲站正式开启,头条主赛,前羽量级冠军乔丹·武塞尼奇对战意大利的新秀蒂齐亚诺·费兰蒂。
文章源自武享吧-https://www.hula8.net/article/56650.html文章源自武享吧-https://www.hula8.net/article/56650.html
文章源自武享吧-https://www.hula8.net/article/56650.html
输入密码hula8net,看备用视频文章源自武享吧-https://www.hula8.net/article/56650.html
Jordan Vucenic began his climb back to the top with an empathic main event win in front of a packed-out indigo crowd at CW 150 on Friday night.文章源自武享吧-https://www.hula8.net/article/56650.html
Our first European event of 2023 had finishes in abundance with just one of all ten bouts reaching the judges' scorecards as UFC stars and CW alumni Tom Aspinall and Arnold Allen watched on cage-side.文章源自武享吧-https://www.hula8.net/article/56650.html
It was Omran Chaaban who continued his momentum in our first fight of the night with an additional anaconda choke finish being added to the record of the welterweight prospect.文章源自武享吧-https://www.hula8.net/article/56650.html
Jack Eglin, Weslley Maia, Daniel Skibiński and Nik Bagley all returned to winning ways with impressive performances to complete the prelims.文章源自武享吧-https://www.hula8.net/article/56650.html
On the main card, a statement was made by Jan Quaeyhaegens as he called for a title shot with a demolition job of Alberto Ciardo.文章源自武享吧-https://www.hula8.net/article/56650.html
While Kate Bacik and Lone'er Kavanagh completed a clean sweep for GB Top Team. Bacik made a spectacular start to her CW career with her one-sided win, while Kavanagh blew the roof off the indigo with another 'unbelievable' knockout.文章源自武享吧-https://www.hula8.net/article/56650.html
A co-main event slot for Justin Burlinson gave him the opportunity to get right back into the title mix at 170lbs by taking out top contender Jamie Richardson.文章源自武享吧-https://www.hula8.net/article/56650.html
Before it all came down to the man who made the final walk of the night with all eyes on Vucenic as he made his return against surging prospect Tiziano Ferranti.文章源自武享吧-https://www.hula8.net/article/56650.html
It didn't take long for 'The Epidemic' to make his mark in the main event as he fought for multiple takedowns and dragged his opponent into a nightmare position with Vucenic soon finding he rear-naked choke from his back for the roaring indigo crowd.文章源自武享吧-https://www.hula8.net/article/56650.html
Cage Warriors 150 Preview: Vucenic vs Ferranti
Main Card文章源自武享吧-https://www.hula8.net/article/56650.html
Jordan Vucenic def. Tiziano Ferranti via Submission (rear-naked choke) after 3:21 of round two
Justin Burlinson def. Jamie Richardson via Technical Submission (rear-naked choke) after 3:55 of round three
Lone'er Kavanagh def. Davide Scarano by TKO (spinning back kick and punches) after 0:58 of round three
Kate Bacik def. Awa Sow via Submission (rear-naked choke) after 4.38 of round one
Jan Quaeyhaegens def. Alberto Ciardo via TKO (elbows) after 4:18 of round two文章源自武享吧-https://www.hula8.net/article/56650.html
Prelims
Nik Bagley def. Wesley Machado via Submission (rear-naked choke) after 2:13 of round one
Daniel Skibiński def. Omiel Brown via unanimous decision (29-28, 29-28, 29-28)
Jack Eglin def. Ille Meryacre via TKO (punches) after 2:44 of round one
Weslley Maia def. Bogdan Barbu via Submission (rear-naked choke) after 4:33 of round two
Omran Chaaban def. Mush Aslani via Submission (anaconda choke) after 4:47 of round one文章源自武享吧-https://www.hula8.net/article/56650.html
---
Cage Warriors kick-off the European leg of their 2023 world tour tonight at London's indigo at The O2, headlined by the return of former featherweight champion Jordan Vucenic, as he faces Italian prospect Tiziano Ferranti.文章源自武享吧-https://www.hula8.net/article/56650.html
The ten-bout showcase also features a co-headliner pitting former title challengers Justin Burlinson and Jamie Richardson against each other in a bout dripping with 'Fight of the Night' potential.文章源自武享吧-https://www.hula8.net/article/56650.html
'The Epidemic' Returns
In CW 150's main event, one of the promotion's most vaunted featherweights in recent years returns to mount a second run at 145lb gold.
Jordan Vucenic (9-2) will make his first appearance in the yellow gloves since dropping a spirited five-round decision to current title holder Paul Hughes in their unification bout at CW 145 last November.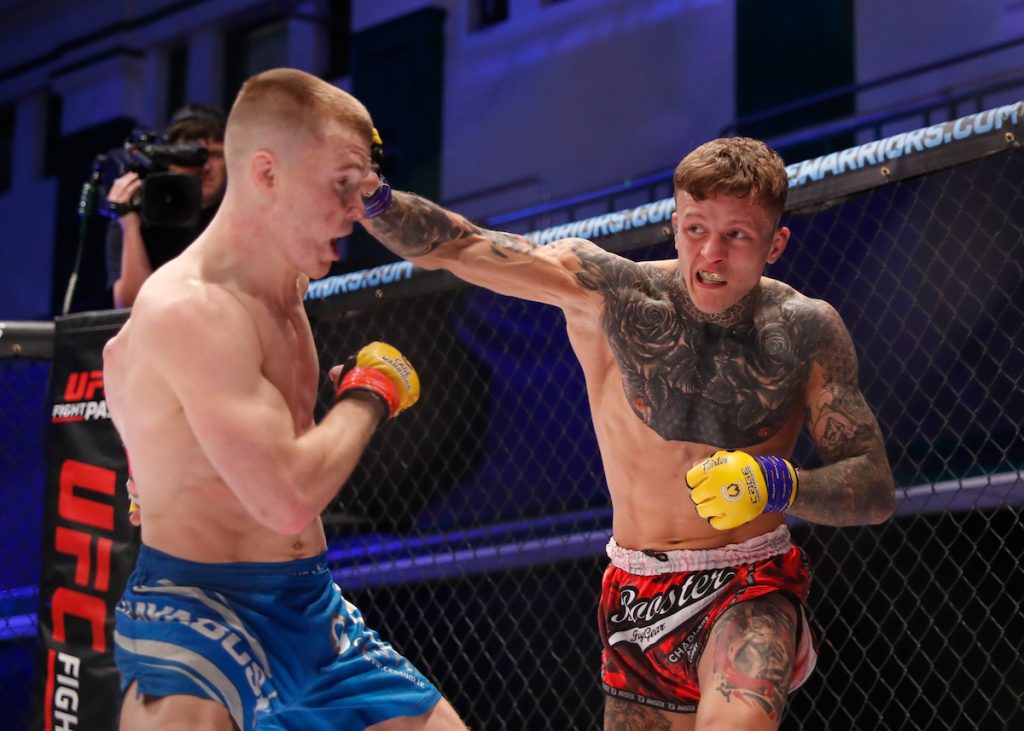 Poignantly, the Corby man's comeback will take place in the very same venue; a chance perhaps to exorcise some demons as he aims to return to title contention.
Looking to spoil the party is a promotional newcomer surrounded by a whole lot of hype; unbeaten wonderkind Tiziano Ferranti (5-0).
The Rome, Italy native is riding a twelve-fight winning streak across both amateur and professional competition, and has yet to see the judges' scorecards, or even the third round.
With the stage set for a striking battle, this one will likely come down to the power of Ferranti vs the style of Vucenic.
Former Title Challengers Collide
In this evening's co-main event, recent welterweight title challenger Justin Burlinson faces one-time middleweight title challenger Jamie 'Young Gun' Richardson.
A talented grappler with a penchant for crowd-pleasing slug-fests, Burlinson (7-2) wowed against Rhys McKee in his last outing; ultimately coming out on the wrong end of a blood-splattered brawl in Belfast.
He'll jump straight back into the fire against another certified value-for-money fighter in Richardson (11-8), who enters the bout on the back of a razor-thin decision loss to top contender James Sheehan.
Prior to that, the 26-year-old veteran had notched-up back-to-back wins over Italians Alessandro Botti and Leonardo Damiani.
With both men known for their punching power as well as their grappling chops, this one has all the makings of a wildly unpredictable affair.
Elsewhere on the card, surging prospect Lone'er Kavanagh (4-0) looks to continue his stunning run of form against fellow up-and-comer Davide Scarano (4-0).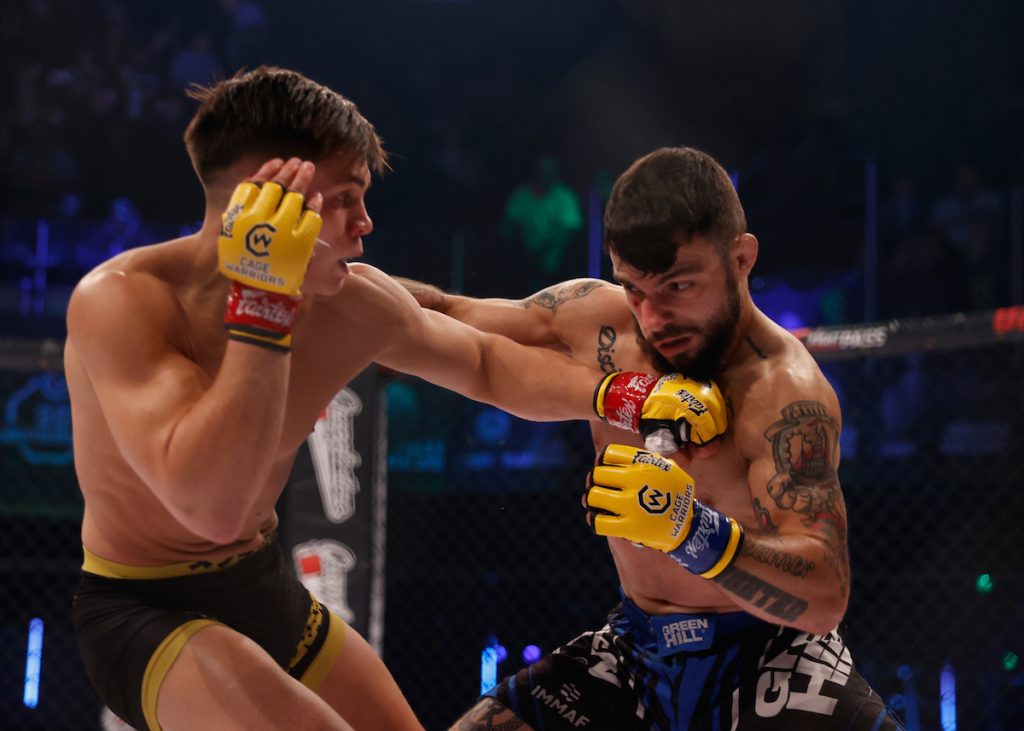 With only two bouts going the distance between them in the professional ranks, fans should expect fireworks when this pair of flyweight prospects collide.
In a late addition to the main card, french bantamweight Awa Sow (1-2) makes her sophomore appearance in the famous yellow gloves, as she faces a promotional newcomer in GB Top Team's Kate Bacik (0-1).
A lightweight barn-burner opens the CW 150 main card, as Belgium's 'Q-Bomb' Jan Quaehaegens looks to keep his 100% finishing streak alive against fellow scorecard-dodger Alberto Ciardo, who has only seen the final bell once in six pro contests.
In preliminary action, Mush Aslani (4-3) returns following his lightning-fast stoppage of Adam Darby at CW Unplugged last November. He'll face Team KF's Omran 'The Lebanese Gorilla' Chaaban, also coming off a highlight reel finish at Unplugged.
Things got fiery between the pair at Thursday morning's weigh-ins; the bad blood will be settled in just 24 hours' time.
In the featherweight division, the debuting Wesley Machado (3-2) meets returning prospect Nik Bagley (2-1), while a pair of bantamweight bouts see Jack Eglin (2-2) face Ille Meryacre (2-0) and veteran Bogdan Barbu (17-14) square off with the always exciting Weslley Maia (6-5).